The E. J. Whitney Company has been converting vintage automotive generators to alternators since 2004 with great success.

In the past a few companies attempted to do this but didn't study it carefully enough and the units either rattled apart and or overheated. Our crew includes two mechanical egineers that perfected the basic design. We currently have hundreds on the road without any problems.

We primarily do flat head Ford generators from the model A thru 1953 (seven models). The early models had a cutout relay on top of the generator which we convert and install on the new unit so it hooks up just as Ford intended. We also do Delco Remy. The focus of our design is to reuse as much of the original generator as is practical to preserve that original look.

All of the units we produce are 40 amps which are more than cars of this age ever had to begin with. All internal parts are new first quality alternator parts from a major manufacturer. Our alternators are capable of putting out over one hundred amps on the test bench but exceeding forty amps for an extended time would overheat the unit.

For the earlier models we offer either six volt positive ground or twelve volt negative ground. The standard conversion unit is black but the center field housing (cylinder) part is aluminum and can be polished at an additional charge.

We do require a core generator for exchange; the same model that you want converted. We do not have completed units in stock but we do keep all of the components so it's not always necessary that we have your core before we get started. Generator cores are quite heavy and we suggest using a flat rate box from the post office, the box is free and the shipping is about $18.00. Put padding in the pulley end of the box as we have had some pulleys squashed.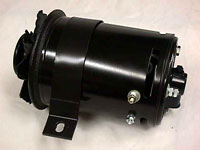 Model: 8BA, 1949 to 1953
6 Volt or 12 Volt
Wide belt or narrow belt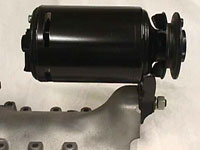 Model: 79 or 81A
6 Volt or 12 Volt
With or without cutout relay

Model: A and B
6 Volt or 12 Volt
With or without cutout relay



Model: 40A
6Volt or 12 Volt
With or without cutout relay